Realwarm has access to renewable energy funding from one of worlds most respected investment institutions for the installation of commercial biomass that qualifies for Non-Domestic RHI.
This opportunity offers the ability to save on fuel costs of up to 60% without making any up front capital investment.*
Our investment partner will:
Fund the entire installation including boiler, fuel storage and delivery system, supporting hardware and the cost of installation.
Own the boiler and receive all RHI payments over a 20 year period, paying a peppercorn lease for the space the system occupies.
Will at the end of the lease transfer the biomass system to you and any remaining benefits..
You will:
Provide all fuel to operate the boiler and receive the benefit of any fuel cost savings – which can be as high as 60% compared to oil or LPG costs.
Will undertake for the duration of the lease to pay for all insurance, servicing, preventative maintenance and repairs on the system.
Commit to using a certain amount of heat.
Undertake day to day maintenance such as checks and disposing of ash.
Provide access to the site for quarterly maintenance and meter readings.
Have to provide no security or charges.
Be able to retain your existing boiler as a back-up.
*Access to this funding facility is subject to terms and conditions. This facility is only available to installations that would qualify for payments under the non-domestic Renewable Heat Incentive. Realwarm and its investment partner reserve the right to withdraw this offer at any time and are under no-obligation to make any financial commitment.
---
How it works
Funding has been secured for biomass projects for the Investments fund. The money is being used to identify potential sites, design, build commercial systems.
What is a Biomass Boiler?
A biomass boiler is a highly efficient boiler that burns wood chips or wood pellets. It can be automatically fed (so you don't have to keep topping it up) and, in most cases, connects straight to your existing heating system. Although during burning, biomass releases CO2, whilst it is growing it absorbs CO2 – making biomass a carbon-neutral fuel.
Biomass boilers are particularly suitable for rural properties running LPG or oil-fired boilers. The new generation of biomass boilers provides a brilliant alternative and can directly replace your current boiler, using wood pellets or chippings as the fuel source for either space or water heating.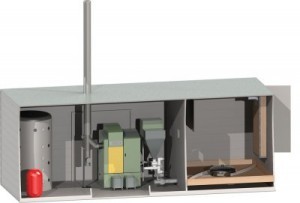 What happens next?
After a review of the potential suitability, which includes an assessment of financial standing and the initial project evaluation the you will be offered a 20 year long-term heat supply contract .On a customer entering into a heat supply contract, the funder will install the specified plant on the customer premises.
Following installation heat is provided by the system to the user on a metered basis. The user provides usage guarantees, which will be important in the context of ensuring that the minimum heat usage required to secure RHI payments is achieved.
Our investers receive income from RHI payments from Ofgem. A nominated contractor will be responsible via contract for the ongoing quarterly maintenance of the installation.
---
APPLY FOR A FREE CONSULTATION